They appear Godly, but they DO NOT know Jesus Christ!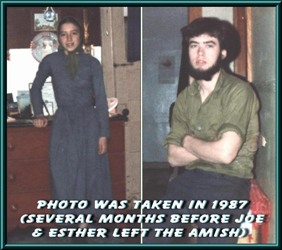 Who We Were...
Joe Keim & Esther Yoder

We were both born and raised in the Old Order Amish Community. From childhood, we were taught at home and at church, that in order to go to heaven we had to follow the Amish ordinances all of our lives. These ordinances were put together over the past 290 years by our forefathers. The bishop keeps the 22 page copy, which explains how the hats, bonnets, clothing, buggies, etc. are to be made, what is or is not permissible behavior, as well as which conveniences are or are not allowed. Neither of us really understood the ordinances, only that we were required to follow them.

Who We Are Now...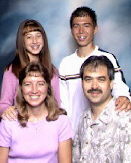 Shortly thereafter we went back to the Amish, settled down, rejoined the church, and got married. We still weren't happy and God was displeased with where we were. Joe turned totally back to the Amish lifestyle, but Esther kept digging into the Word.

Through praying friends at Bethel and God continuing His work in her heart, her prayers were finally answered. After nine months of marriage, Joe came home from work one day and said, "I think we ought to leave the Amish this week-end." Joe and Esther left the Amish in the fall of 1987. This time was different, because they realized they would never return. They would never face their families again without the wall of shunning and excommunication between them.

They started going to Bethel Baptist Church where they were baptized by immersion in November of 1987. They also became members that same day and began allowing God to use the gifts He had placed in them.

In the twelve years they've been attending Bethel, Joe has been on the Deacon board, taught 4th - 6th graders in Sunday School, taught the teens, and the adults. Together they have helped with bus route visitation, vacation Bible School, Wed. evening classes, and Bible studies. Joe has also been preaching in area nursing homes for the past 6 years and doing in-home Bible studies as well.

They remember so well the day they laid their religion down along with all their family and friends and chose to follow Christ rather than man. They chose then to do it forever and they can understand where you are coming from and the challenges you face... let them help you. In meeting them, I felt like I had met Christ again through them. God bless.




Threefold Purpose of Mission to Amish People

1.

To Evangelize Amish People.

To reach the Amish people with the gospel of Jesus Christ in accordance with Mark 16:15. This is being done through personal witness, home Bible studies, home prayer meetings, the SonLight Club, The Amish Voice, and the Tape/CD Ministry. The MAP Ministry also offers counseling and protection to those who are victims of sexual, mental, and physical abuse.
2.

To assist older teenagers and young adults attempting major life transitions as they leave the Amish culture and enter an American lifestyle by providing basic Life Skills such as:
* communicating with English as a second language,
* driving lessons for obtaining a vehicle operator's license,
* learning new cultural norms, expectations and social practices,
* applying for a Social Security card, completing employment applications,
* studying for high school GED testing, considering higher educational levels,
* preparing for job interviews, finding a residence, acquiring home furnishings,
* opening bank accounts and understanding practical financial management practices.

3.

Expand Mission to Amish People (MAP) all over North America:


Since MAP's existence in February 2000, the founders have traveled throughout the United States presenting the ministry to local churches and people. The goal of MAP is to pass the burden on to others so that they, too, can help reach the more than 250,000 Amish people throughout North America. For more information, please click on the following link.